How to pack and ship samples
How to pack and ship samples
---
Share feedback
Thanks for sharing your feedback!
Overview
Secure packaging is essential to ensure samples reach us in a good condition and without contamination.
What do you need to do:
Step 1: Check your samples
Before shipping DNA to us, please check that all samples have been prepared correctly and that plates and tubes are clearly labelled and securely sealed. Read preparing your samples for an order for more information.
Tip
Avoid using dry ice. Shipping DNA samples on dry ice is not recommended because it is classified as dangerous good for transportation. DNA can be shipped with or without ice bricks or cold packs. Plant and animal tissue samples can be shipped at room temperature.
Step 2: Include all necessary documentation
Include detailed documentation to help us to properly connect your online order with your samples. When sending your package samples, please:
Print and include inside the parcel the full contact details of the sender of the material as well as the client to be invoiced (if different)
Make sure all the contact details - ours as well as yours - are correctly and legibly written - and that our phone number appears clearly on the outside of the package
Please include a printout of your Service Specification Form, which you will have received via email when you placed your order
If you are sending plates relating to different orders, group them according to each order and make sure the correct Service Specification Form is attached to the correct plates.
Depending on your order type and the location you are sending samples from (i.e. within or outside Australia) there may be different documentation requirements. Read about documentation & permits for more information.
Step 3: Package all samples carefully
Are you shipping samples from outside Australia?
To avoid restrictions from the International Air Transport Association (IATA) on total ethanol volume, if you are sending more than 30 plates they must be split into multiple shipments.
Instructions for PCR Plates
When sending us PCR plates:
Ensure that the plates are properly sealed
Stack up to 5 PCR plates on top of each other with cardboard spacers in between each. Secure them with a rubber band.
Wrap each stack with paper towels to absorb potential leaking Ethanol
Put each stack into two Ziplock bags
Pack them tightly in an appropriately sized box with plenty of bubble wrap or Styrofoam
Make sure all necessary documents are included in the package.
Stacked PCR Plate example: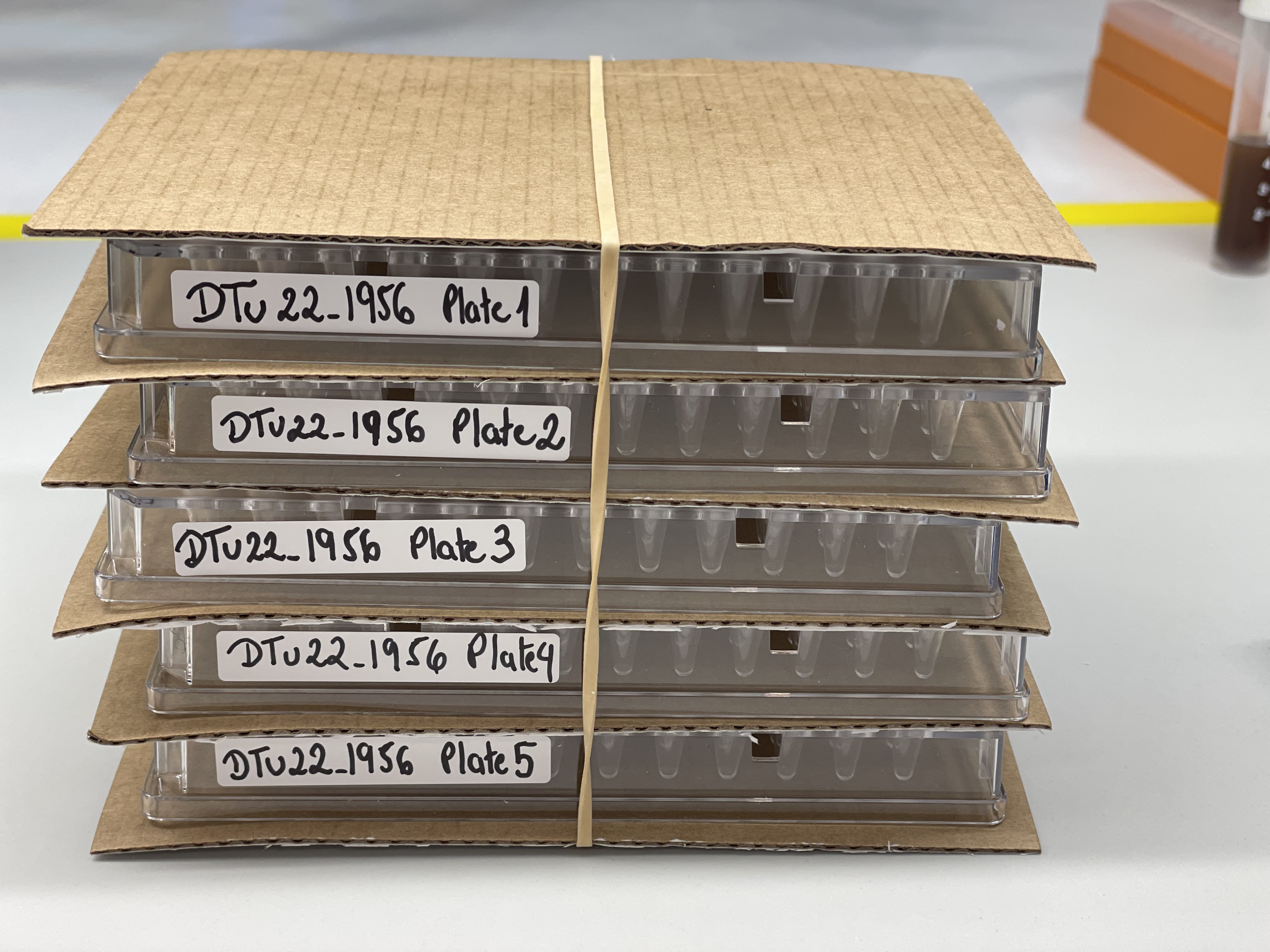 Instructions for Racked Tubes
If you're sending samples in racked tubes:
Mark each tube with the corresponding well location (A1, B1, .. G12,H12)
Ensure that the tubes are properly sealed
Place the lid on top of the rack with a tissue between the seals and the lid to push down on the seals, then secure the lid with a rubber band
Wrap the rack in paper towels and place it in a Ziplock bag
Pack them tightly in an appropriately sized box with plenty of bubble wrap or styrofoam
Make sure all necessary documents are included in the package.
Step 4: Send sealed package to DArT and notify us
When sending your shipment, make sure it is clearly marked with your contact details (including phone and email) as well as ours, below:
Diversity Arrays Technology
Attention: Vidushi Patel
Phone: +612 6122 7300
Email: samples@diversityarrays.com
This will ensure couriers can contact us if needed to ensure delivery.
View our delivery details and courier instructions.
Notify us
Once you've sent your samples, please notify us here. Delivery delays can increase the chance that your samples will degrade, which may affect our ability to process your order. Notifying us in advance to expect your sample shipment can help reduce delays.
Courier Recommendations & Information
We recommend you send samples via DHL or Fedex, as both providers have been reliable and efficient when clearing sample shipments including DNA and Animal tissue with Australian Customs to our office.
However, you can use your preferred courier such as Toll or IPEC, but if you are sending samples from outside Australia, and using other couriers, we recommend you confirm with your courier first about the pre-arrival clearance options for your samples as this will enable prompt delivery and processing of your order.
If using Australia Post for shipping from within Australia, we recommend you use Express Post and ensure your parcel is scanned at the post office.
If your courier company can scan documents, we also recommend you ask them to upload all the necessary paperwork into their system to help Australian Customs clear your shipment online before arriving in Australia.
If your courier company does not offer this service, you will need to attach physical copies to your shipment.
The courier company will also give you an Air Way Bill (AWB) or consignment number that you will need to reference in your Manufacturer's Declaration and Proforma Invoice.
Step 5: Track your order
We will advise you when your order reaches us at DArT, but until that happens, please monitor your shipment through the courier company.
If your paperwork is incomplete or requires inspection, your shipment can be delayed at the Australian border. In this case, the courier company will usually contact either you or DArT for more information to help the shipment clear. If you are concerned or become aware of a delay, please contact DArT and provide your AWB and Manufacturer's Declaration so we can follow up from our end.
You are responsible for all charges that may be incurred in getting customs and quarantine clearance, or any duties that may be imposed on the shipment - however we may give you further instructions to help you to avoid any unnecessary delays or charges. Please follow them carefully. We are unable to take responsibility for any delays caused by the courier or any other third party.
Once your shipment arrives at DArT, you will receive an automated notification that the samples have arrived safely and been accepted into our system ready for processing. Read How to track your order status for more information.
If there are any issues with the plates, samples, or your order, we will contact you for further clarification and to discuss next steps.
---
Was this article helpful?
---
What's Next